Blackburn with Darwen Children's Literature Festival 2022
Darwen Library 4th, 5th & 8th October
Blackburn Library 6th, 7th & 8th October 
This will be the fourth festival that we have held in Blackburn with Darwen. In addition this year we will be holding events in the lovely Darwen Carnegie Library too. The 2020 events were streamed out virtually due to COVID19 restrictions from  Blackburn Central Library's Hornby Theatre. We are excited to be delivering the events in person.
Children's Literature Festivals was the idea of Blackburn born author Christina Gabbitas. There are over 350 literature festivals in the UK, with less than 10% solely centred on children. With falling literacy levels and England being ranked bottom of the table in the developed world for literacy amongst 16-19 year olds in a 2016 report , Christina thinks we should be concentrating on children in early years and primary to instil interest and a love of books.
Blackburn Children's Literature Festival is set to encourage children from all cultures , backgrounds, and abilities, to read and write.
We believe that reading is not just fantastic educationally, but socially and emotionally too.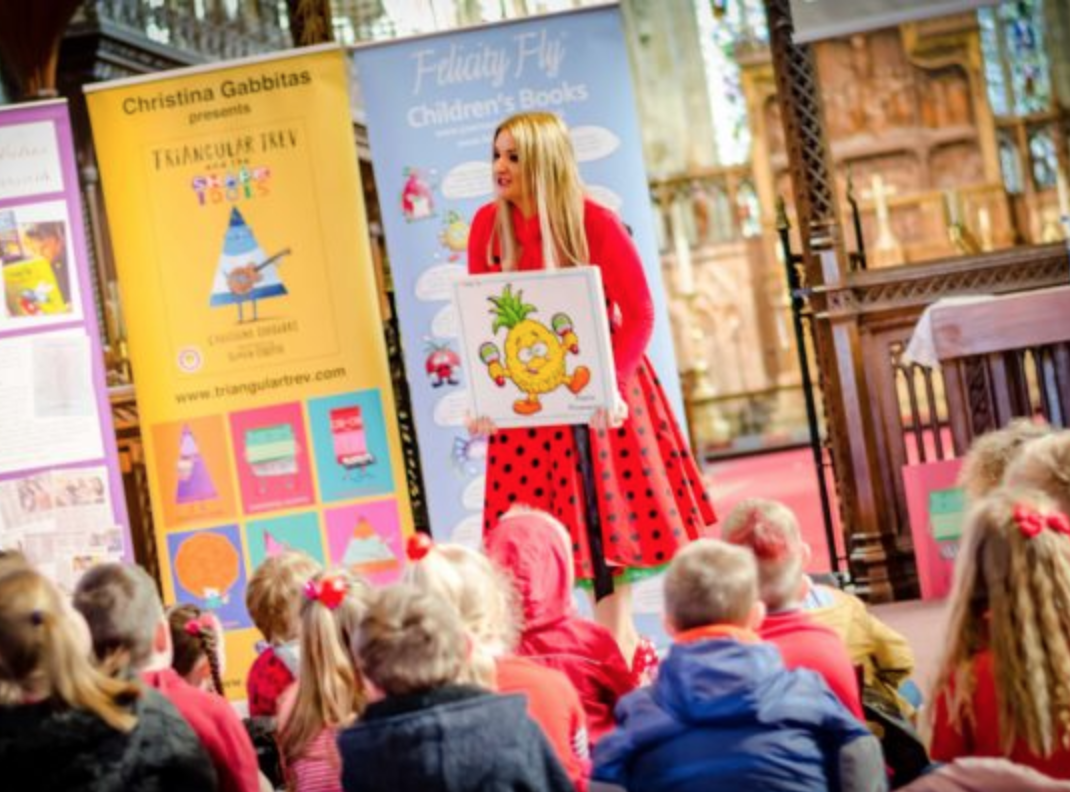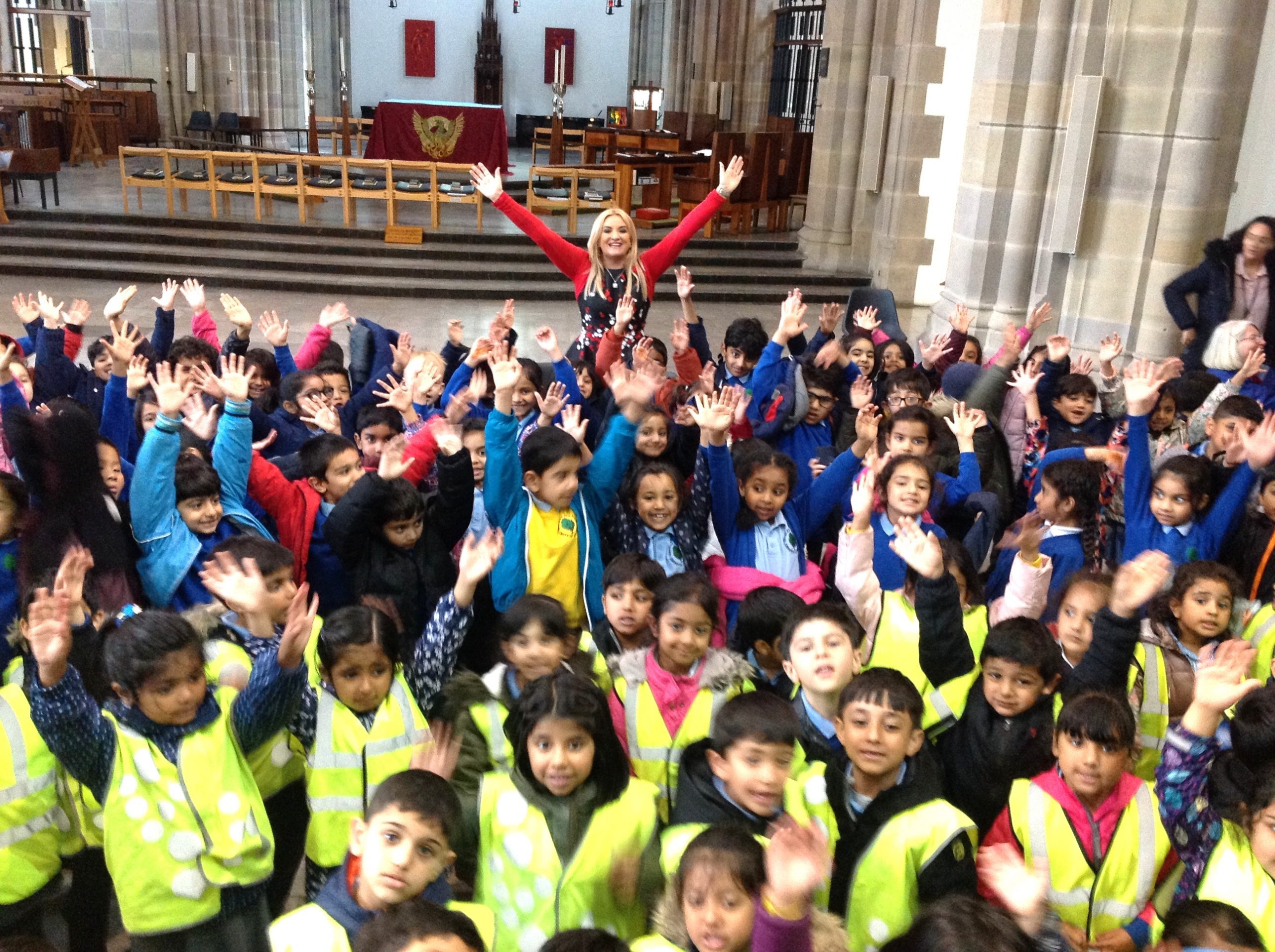 October – Libraries Week
Schools Fest at Darwen Library 4th 
Blackburn Library 6th & 7th 
Local Primary Schools in Blackburn with Darwen are being invited to join into read aloud interactive sessions by our authors and illustrators
Local schools in Blackburn and Darwen will be attending read aloud interactive sessions live from Darwen Library and Blackburn Central Library. More information about the authors involved can be found further down the page.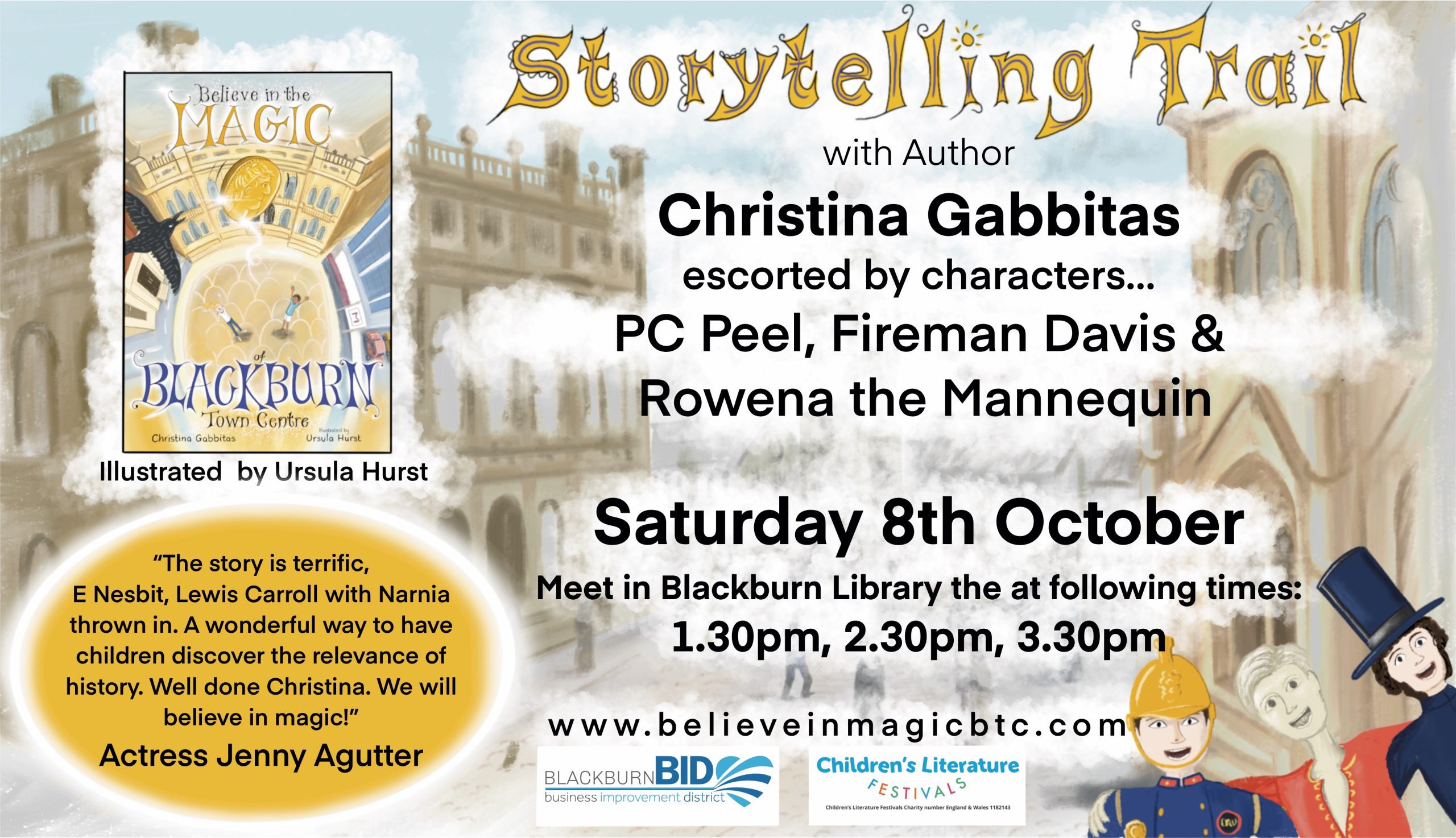 Families and Communities Days
Darwen Library 10.00-12.00pm
Blackburn Central Library 1.30-4.30pm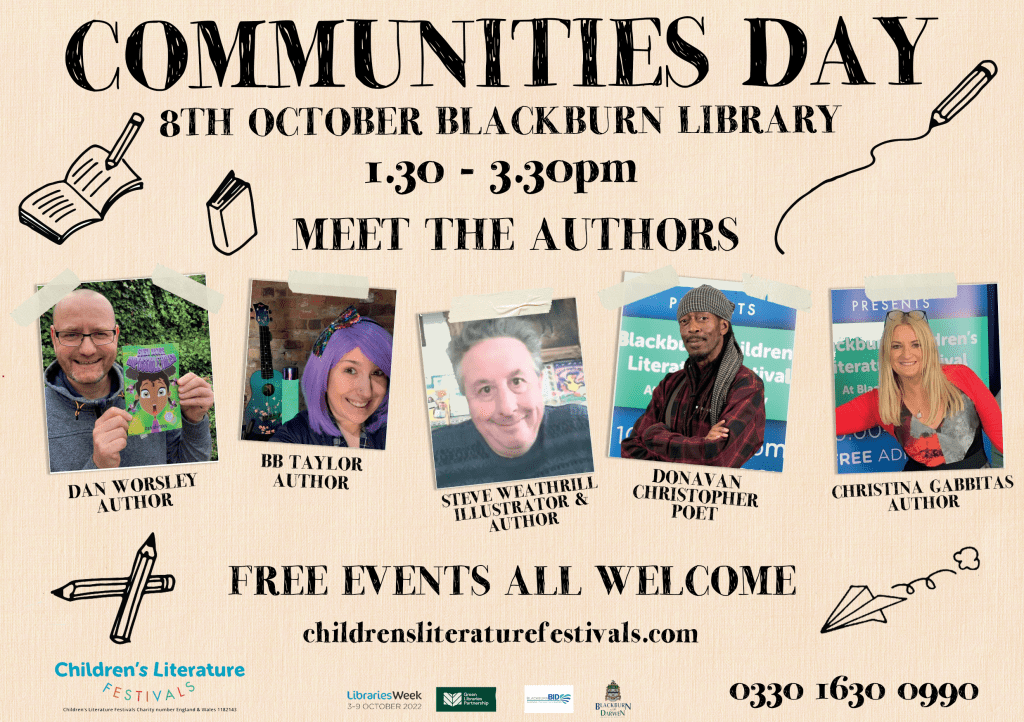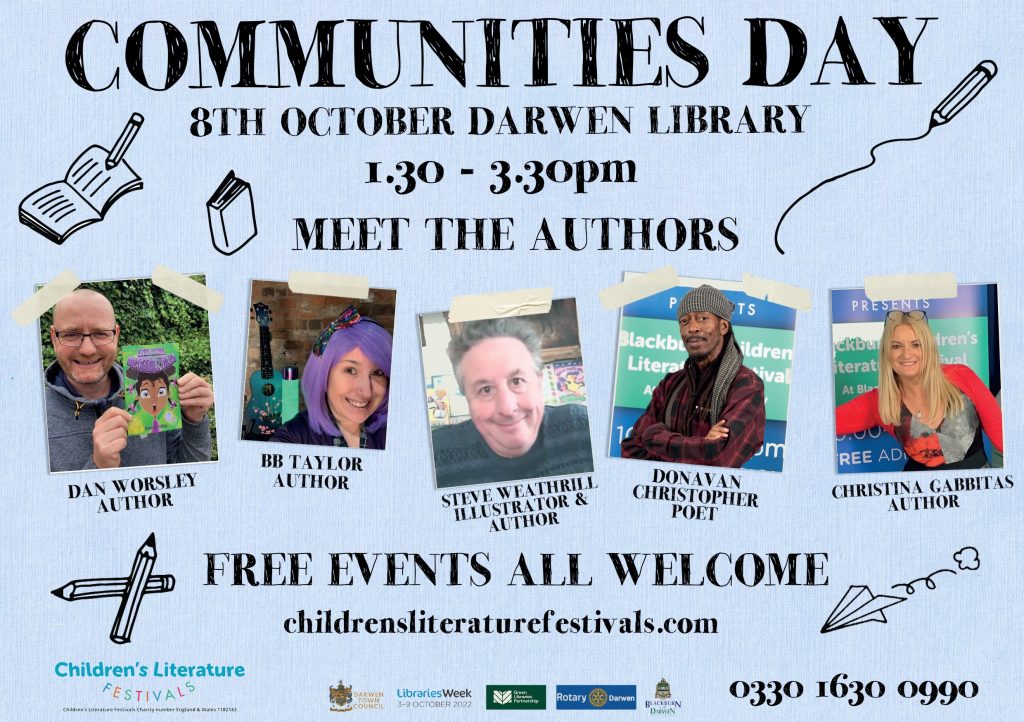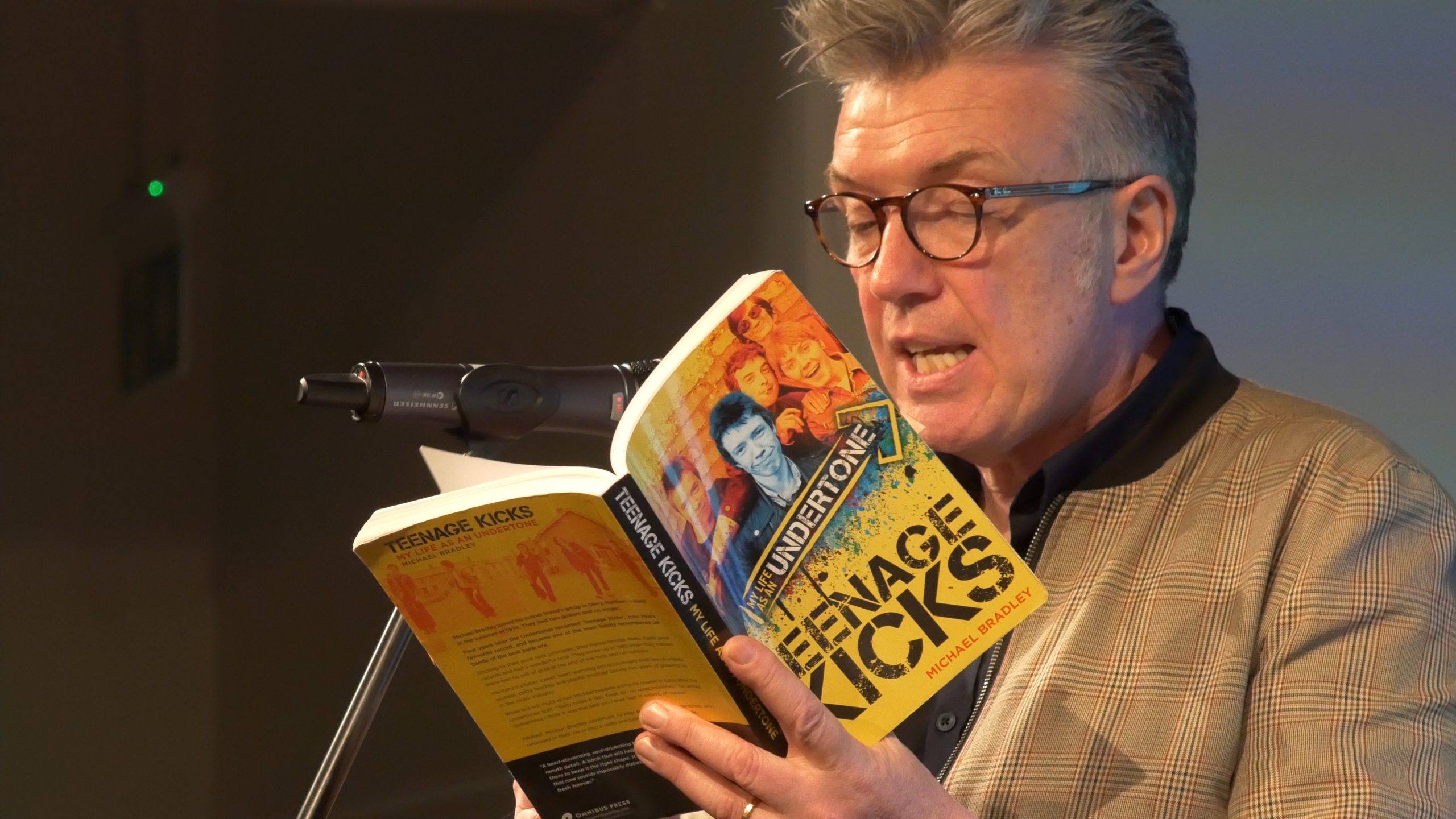 Evening with Artists with Undertone Michael Bradley with Teenage Kicks:
 Rappaman – Dan Worsley – Christina Gabbitas –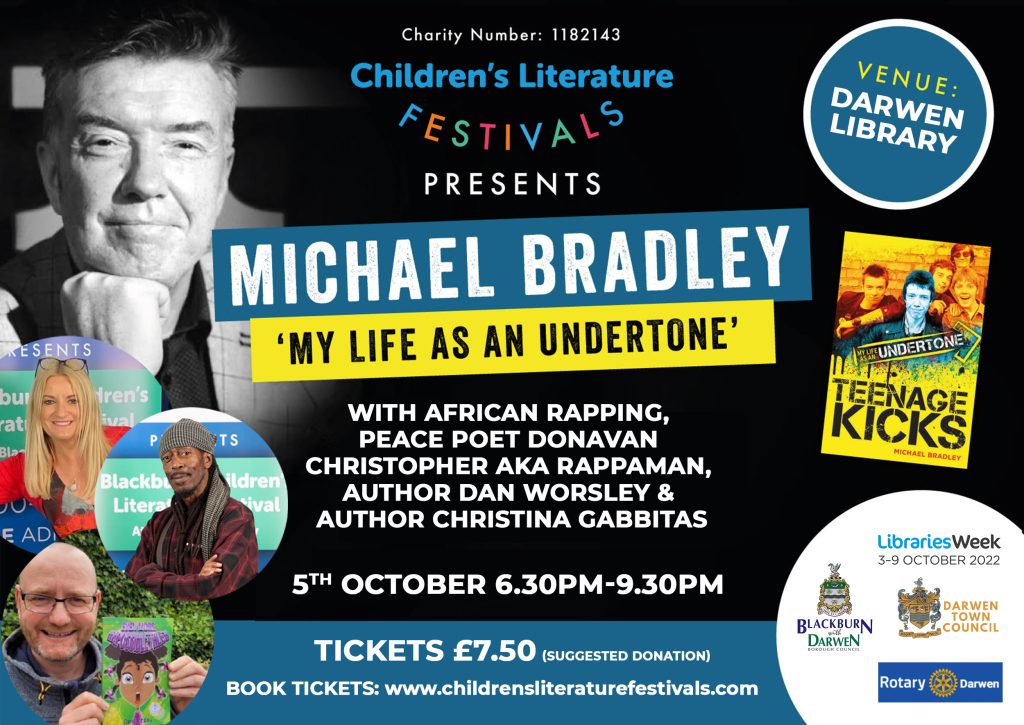 Hosted by Founder Christina Gabbitas, Patron of Children's Literature Festivals and Undertone Mickey Bradley will be talking about his life as an Undertone with his story Teenage Kicks.
Artists Christina Gabbitas, Rappaman (Donavan Christopher) and Author Dan Worsley will talk and share excerpts from their work with audience participation.
Entrance for this event can be booked on the following link with a suggested donation of £7.50  – Drinks and nibbles are provided.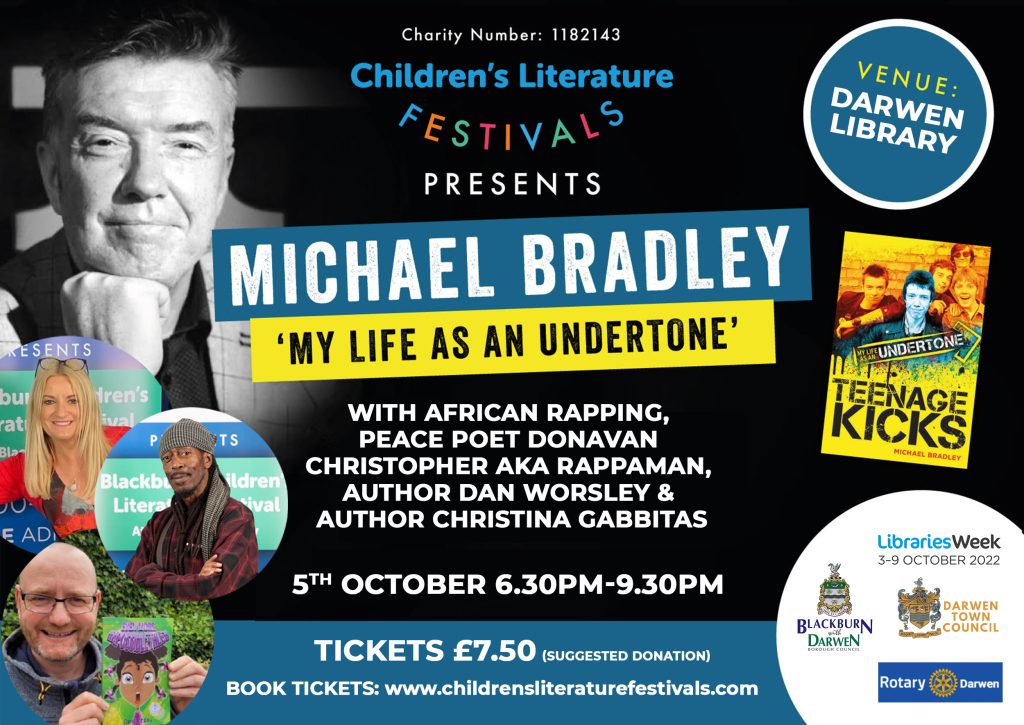 Meet the authors involved